I can feel the humidity from this picture.
Yea thank God October and November are oure driest months
Which is why outdoor cannabis is well suited for that region. You can flower into late November for long flowering Sativa varieties. I am from Virginia, as long as a bad hurricane didn't come through, things always grew themselves compared to here in Colorado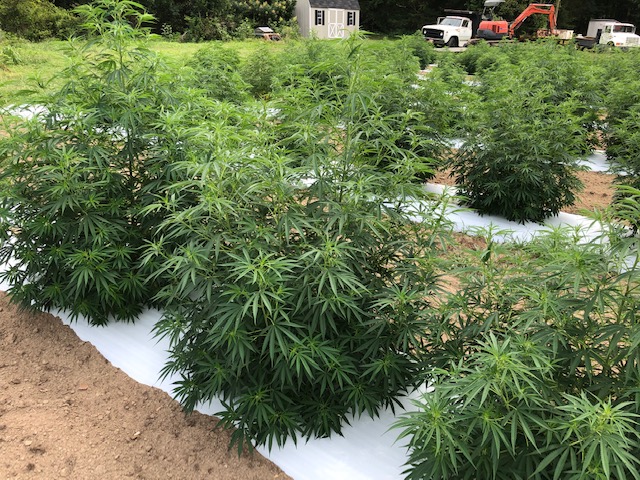 IMG_0039.jpg
Our test plot of one acre in Richmond. That rain was much needed @Ncfarmer. Your field looks great!
How did you plant on this scale if I may ask? Seeds into ground, greenhouse start, clones, etc.?
Clones. Set with a mechanical tobacco setter 4 row
Actually my partner in business pictured there!
Are y'all using plastic mulch and drip tape?
We're just using plastic mulch. Rains enough here in TN so far. Might consider drip tape next year since we are going quite a bit larger.
No sir we use drip tape on some this year last year we used overhead irrigation had a buddy use plastic but it gets so hot under the plastic I think it causes root problems in our area?
We haven't had problems with heat on the roots so far in TN, but we're still coming up on the hottest part of the year. I've read somewhere that white plastic mulch is supposed to be better. We might switch to that next year. I'll keep y'all posted. We also made a 12"x12" hole for each plant in the mulch.
Fuckin awesome. Can you send me a couple pictures of how that greenhouses made I've never seen one built like that
Harlequin, Cannatonic, Caramel Candy, V1 Lemon, Strawberry, Blue Dream CBD
And the sad part… Half of the greenhouse destroyed by an exceptional wind…

We are using the white and things seem to be going well. This is our first attempt